Pricing Options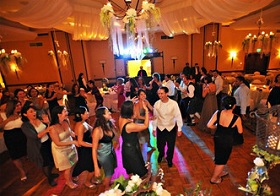 Packages
Call
905 358 3933
and ask about our wedding pacakges.
Our packages begin at $250.00. This includes 2 hours of basic dj services. Discounts are available for multiple bookings such as a wedding and stag & doe. Also, ask about our winter wedding packages. Contact us today to receive a quote according to your specifications.
Feel Free to call us anytime to discuss your event and how we can make your wishes come true!

Uplighting is a new trend that can transform any bland reception area to something quite spectacular. We've all been to a wedding or two in the past few years and at each one, you will more than likely see a head table decorated with the same traditional white lights that are hung on your tree during the Christmas season. There is nothing wrong with type of lighting to aid in creating elegance for a reception, but just imagine having your guests enter the reception to see that the area behind the head table is illuminated with eye-catching bright LED lighting that matches the colour theme selected for that event.

At the moment, Modern Music can provide up to six uplights tailored to match the colour of your bridesmaid's dresses (to the best of our ability) for only $45.00 plus HST per fixture. Moreover, once the dance portion of the evening begins, a DMX controller will allow the lights to change colour at varying speeds. Having uplights at your event will add an additional touch of class to your room. For more details or a free demonstration, give us a call at 905-358-3933.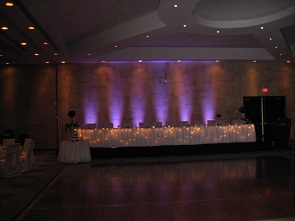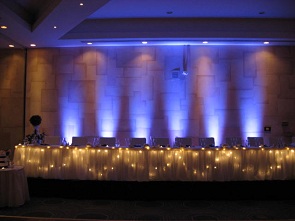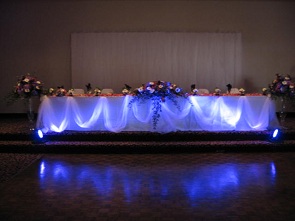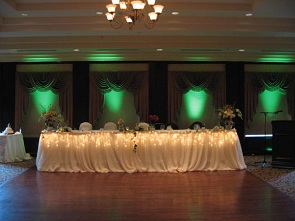 Energy, celebration and FUN! DJ Ken Semenach brought all three of those necessary attributes to our wedding reception. His helpfulness and organizational skills leading up the wedding provided guidance in our song selection to make the evening one to remember for all. Ken made an effort to understand our taste and style ahead of time in order to deliver exactly what we wanted for our wedding day. The music was not only perfect for us, but for the guests attending as well. There was something for everyone! We cannot thank Modern Music enough for everything done to make our wedding a success.
Angus & Rachel Shuttleworth
July 24, 2010 - Lipa Park